Last-minute Omicron travel restrictions in Norway forced Hurtigruten Expeditions executives to cancel a planned trip to Galapagos to preview the newest addition to their expedition fleet, the Santa Cruz II.
But the company says it is nonetheless ready to welcome guests aboard its inaugural sailing Jan. 7. And its guests will be in some of the region's most experienced hands.
Hurtigruten is launching its first Galapagos itineraries in partnership with Metropolitan Touring, the 70-year-old Ecuador and Galapagos tourism pioneer that owns and operates the Santa Cruz II.
I got a peek at the newly renovated Santa Cruz II. And I sampled the expert-led small group excursions, educational lectures and cuisine and service Hurtigruten will offer through Metropolitan on a recent sailing in the Galapagos aboard one of Metropolitan's two other ships, the 24-cabin La Pinta.
While casual, the experience certainly checked my boxes for modern, sustainability focused, luxury-expedition travel.
Santa Cruise II gets an upgrade
With 50 cabins that hold up to 90 passengers, the Santa Cruz II appears more like a traditional small cruise ship than La Pinta. But Metropolitan executives said the guest experience will be largely the same — albeit with Hurtigruten touches.
After a multimillion-dollar upgrade, the Santa Cruz II is essentially a new ship. Its exterior now features Hurtigruten's trademark black hull with a red stripe. Inside, the decor has a modern, Nordic feel. The cabins and much of the public areas are done in blues and white with splashes of light brown and gray. And the ship has lots of large window that bathe both the staterooms and public areas in natural light.
There are variety of cabin sizes, from its spacious Darwin suites that hold couches and two chairs and bathrooms with hotel-room-size showers and private toilet areas, to dedicated family and single cabins.
Public spaces abound, both indoors and out.
There are two large indoor bar and lounge areas, including the Expedition Lounge that includes  Hurtigruten's traditional science corner. On the Santa Cruz II, of course, the corner showcases the unique wildlife and terrain of the archipelago that inspired Charles Darwin's theory of evolution.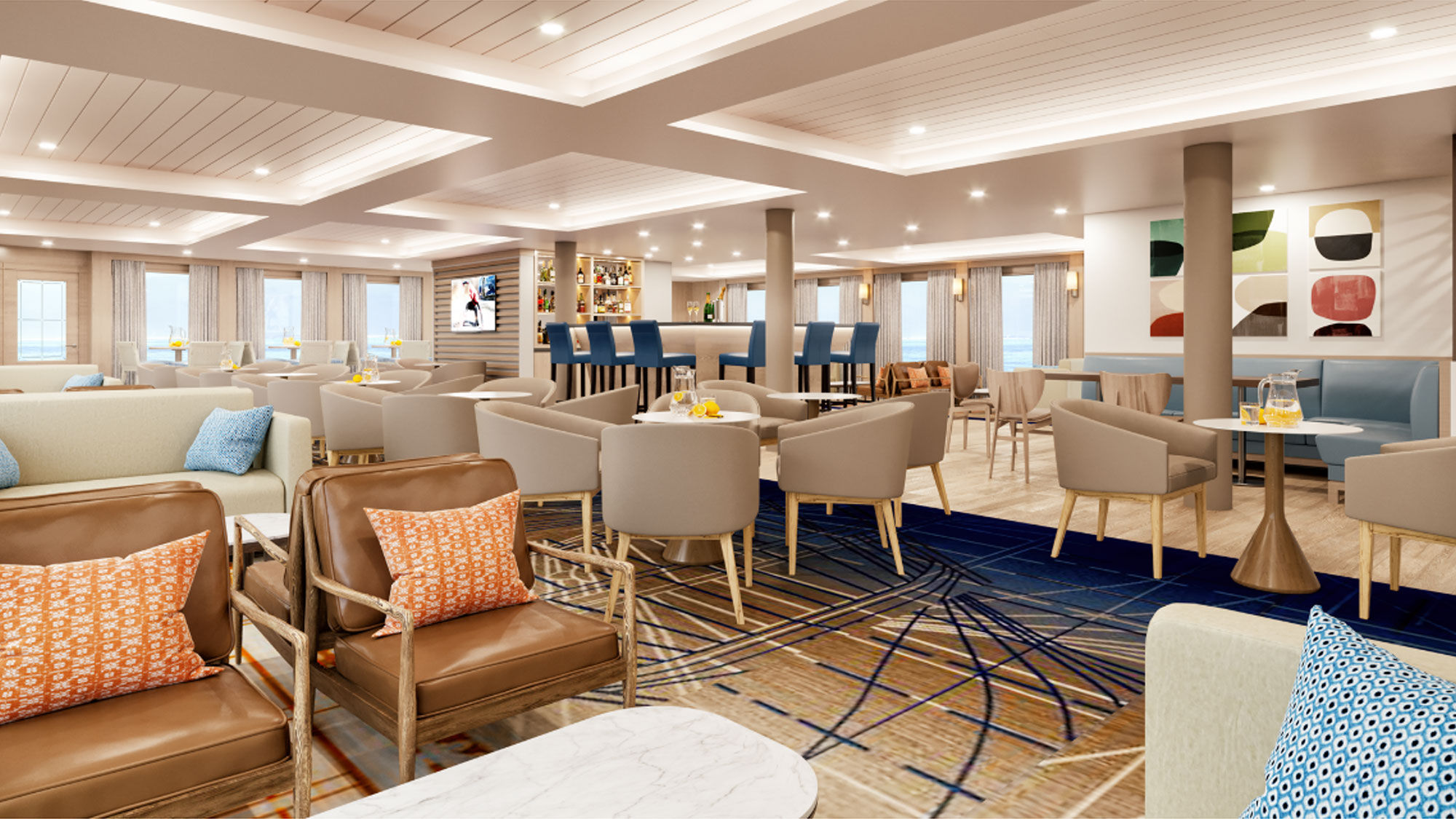 The ship also has smaller library that is also a perfect spot for families or small groups to gather.
The main restaurant is on the lower deck, and menus include plenty of local cuisine, such as lots of fish and Ecuadorean favorites like potato soup, yucca bread and plantain. Vegan and vegetarian options are offered during every meal.
Where will the Santa Cruz II sail?
During 2022, the Santa Cruz II will sail six-night Eastern Galapagos itineraries offered in combination with land packages in Ecuador, Peru, Colombia and Chile. Hurtigruten just this month announced it has expanded the partnership with Metropolitan into 2023 and 2024 to also offer a four-night Northern Galapagos cruise, a four-night Western Galapagos cruise and an eight-night combination covering Northern and Western Galapagos.
Most 2022 Hurtigruten itineraries include pre- and post- cruise land packages in Quito, where Metropolitan owns the historic luxury Casa Gagnotena hotel in Old Town, and a full-day visit to the Cotopaxi National Park, home to the most active volcano in South America. It also offers a pre-cruise, four-day trip to Machu Picchu.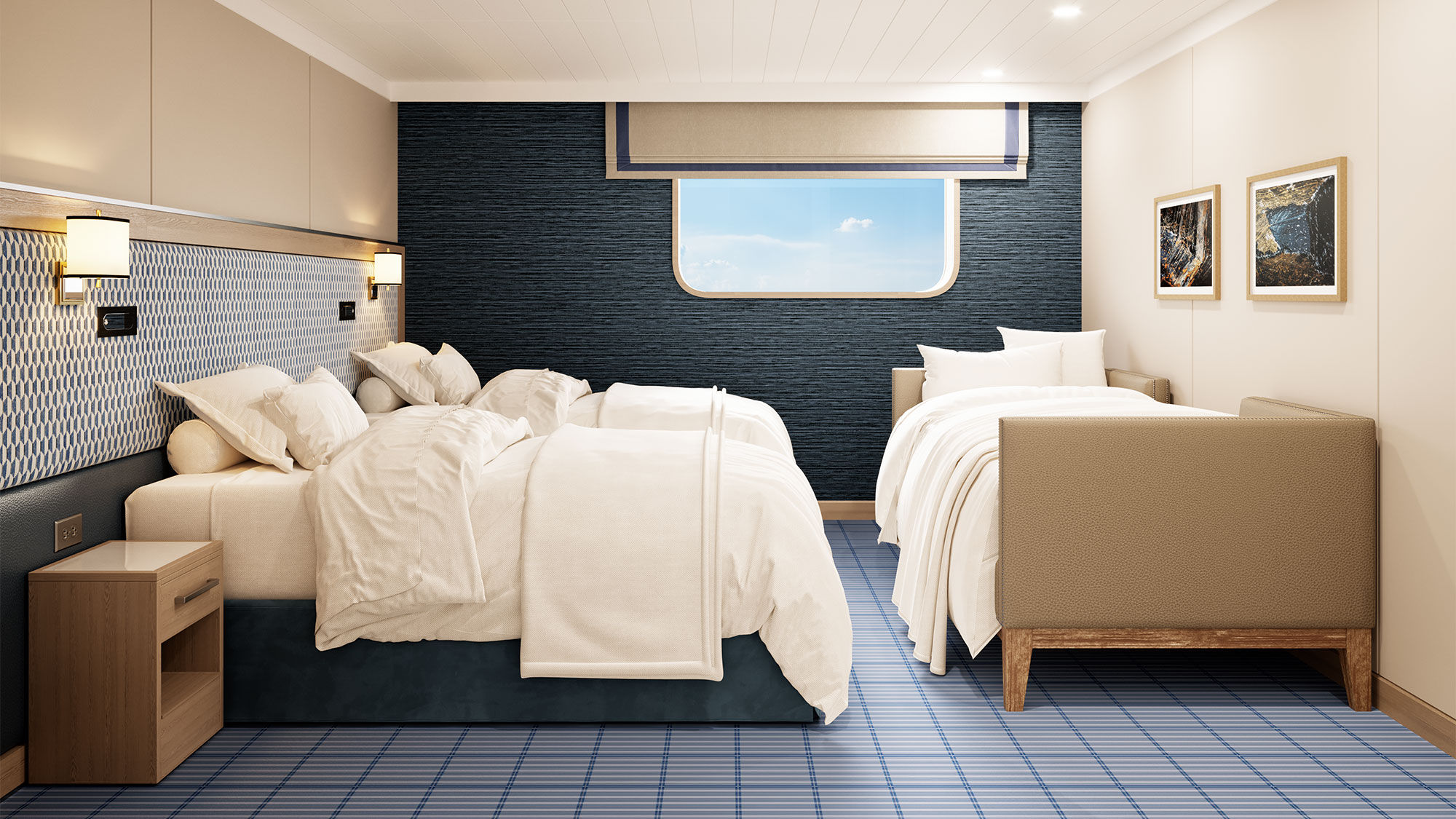 Hurtigruten said its 2023 and 2024 pre- and post-cruise programs will be expanded to include trips to Metropolitan's Mashpi Lodge, a luxury ecolodge about three hours from Quito in Ecuador's rainforest.
And Metropolitan can put together custom land packages for guests who want to travel more extensively in the region.
The benefits of a Hurtigruten-Metropolitan partnership
Metropolitan executives said the partnership was a natural,
as it matched two companies with a like-minded focus on sustainability
and science.
And, as they say in politics, it should be
win-win for both. The experience will be operated by a company that
effectively founded expedition cruising in Galapagos. Hurtigruten said
the partnership gives Hurtigruten Expeditions guests "unique access to
the local experience and knowledge, as well as exclusive access to the
best landing sites in the Galapagos archipelago.
Metropolitan, meantime, taps into a new audience and broader market for its land-based offerings in South America.
Based on my tour of the Santa Cruz II and my four-night sailing with Metropolitan, which was combined with two days in Quito and two more at Mashpi, neither Hurtigruten's executives nor its guests will be disappointed.
Source: Read Full Article