Thousands of British holidaymakers, many of them at the end of half-term breaks, are scattered at airports across Europe due to the sandstorms in the Canary Islands.
Problems began on the island of Gran Canaria on Saturday afternoon, when the runway was closed because of the quantity of airborne sand sweeping in from the Sahara.
At least 17 aircraft were diverted to other Canary Island airports. Jet2's flight from Birmingham landed at Fuerteventura, while the Tui arrival from Cardiff touched down at Tenerife South.
Download the new Independent Premium app
Sharing the full story, not just the headlines
Norwegian's flight from Gatwick turned around over the Bay of Biscay and returned to the Sussex airport, while easyJet's Bristol departure got as far as Lisbon before heading back to its starting point.
But the biggest problems were at Las Palmas airport on Gran Canaria, as passengers arrived to take their flights home – only to discover that the runway was closed and there was no indication about when they might depart.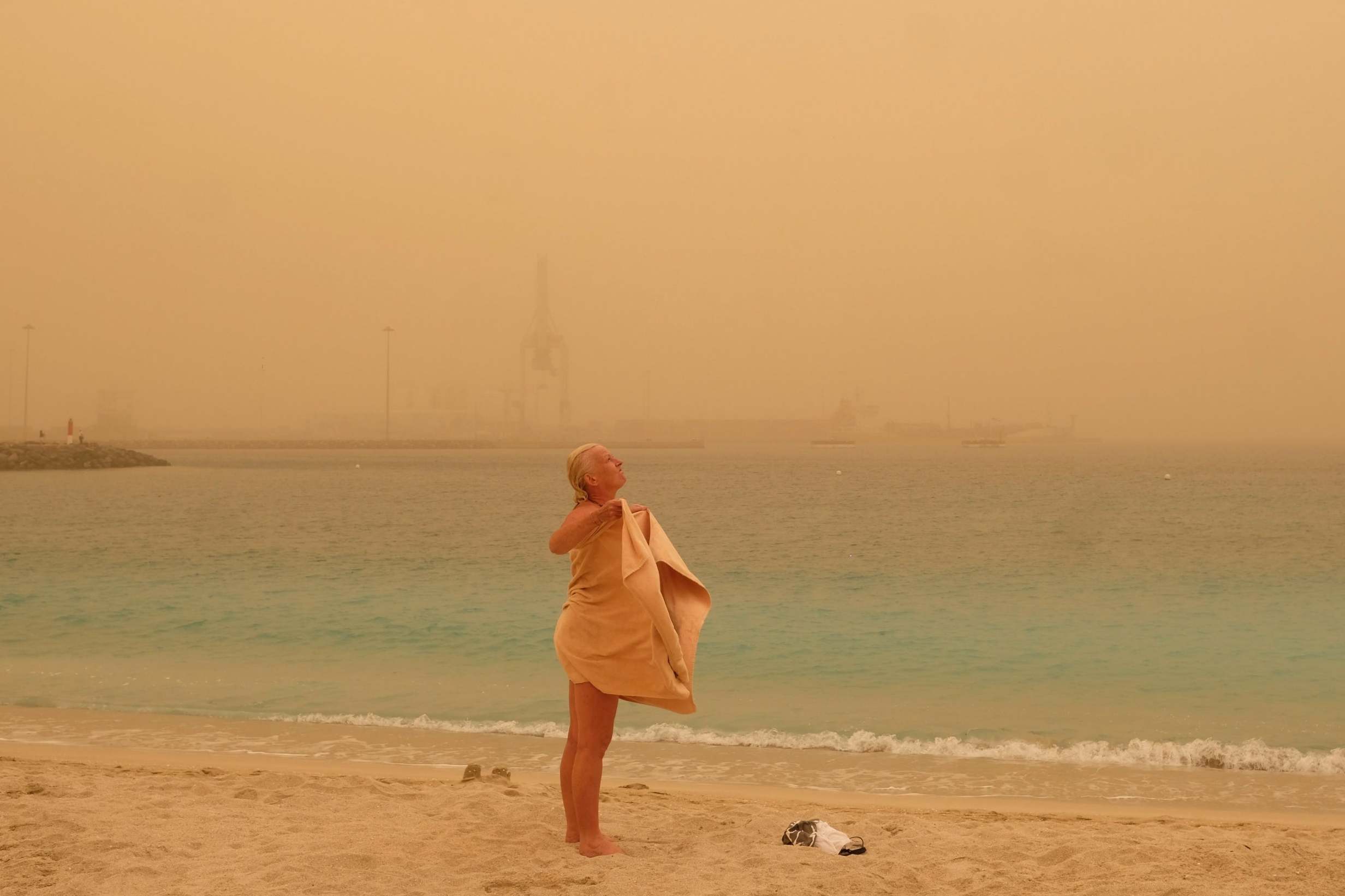 Under European air travel rules, airlines are responsible for providing hotel accommodation and meals for passengers whose flights are delayed, regardless of the cause of the delay.
Tui, Britain's biggest holiday company, said it was following the regulations to the letter.
A spokesperson said: "We would like to apologise to customers whose flights have been impacted following adverse weather conditions in Gran Canaria on Saturday 22 and Sunday 23 February.
"We provided as many customers as we could with overnight accommodation and everyone is being provided with food and drinks as well as being supported by our TUI reps."
Yet some travellers dispute the company's assurances.
"There are literally hundreds of people who would disagree with that," said James Lear – who, with his son Jack, 7, has spent 24 hours waiting at the airport for the Tui flight to Cardiff.
"It was absolute chaos. The flight times kept being put back. There was nobody from Tui anywhere in the departure lounge.
"Eventually at 10.30pm they started corralling us out, shutting departures. There were four or five Tui guys who had no information – they didn't even know the plane was in Tenerife.
"They told us they were finding hotels and buses to take us there. Every time we asked for an update, we were told 'The hotel rooms are booked'.
"At 1am I was told there were only 20 rooms left on the island and was advised to bed down. At 2am I finally got Jack to sleep."
Several hours later, he said, meal vouchers were finally given out.
"Tui have really, really dropped the ball," said Mr Lear. "Why is there no serious incident plan? God knows what would happen if they had the coronavirus on the island."
Ian Thomas, who is waiting for the same flight, said: "The reason I was given for no food was that the delay was an 'act of God'.
"I witnessed several people with young children sleeping in the floor and a great number of elderly couples having to perch on uncomfortable seats for hours.
"Myself and my wife have not slept for over 30 hours, and have just been told no flights tonight."
The TuI spokesperson said: "We are very sorry for the inconvenience this is causing and would like to thank our customers for their co-operation and patience.
"The safety of our customers and crew is always our highest priority and we are doing all we can to get everyone to their destination as quickly as possible."
Close to 800 passengers flying to Tenerife on Saturday were also disrupted, with two Jet2 flights from Manchester to the island touching down in Malaga and Alicante respectively.
A Wizz Air flight from Luton ended up in Lisbon, while easyJet's flight from Newcastle to Tenerife South diverted to Faro in Portugal.
Hopes that Sunday's operations might proceed more smoothly were dashed when further flights to Gran Canaria were diverted to Fuerteventura and Lanzarote.
Ryanair's flight to and from East Midlands has been cancelled, along with many other departures.
Lorraine Lovegrove-Wood, a passenger on Jet2 from Las Palmas to Stansted, said: "We found out about the troubles last night and would not have ventured to the airport if we had been told in advance that no flights were departing.
"Just been told that there is no chance of departure until tomorrow."
Many other flights have stayed on the ground – presenting a huge logistical problem at the end of the main half-term week.
Travellers whose outbound journeys were disrupted by Storm Dennis now face the prospect of spending days waiting for flights home.
Many airlines are stretched during the weekend, and the length of the flight time between the UK and the Canaries means it is not easy to slot in extra "rescue" flights.
Source: Read Full Article