Eighty-five airports will benefit from the first round of grant money for terminals that the FAA will award under the infrastructure bill signed into law last fall.
The FAA announced the recipients of $969 million in grants on Thursday. All told, the infrastructure bill includes $5 billion in funding for airport terminals. 
"What we see here is a new opportunity to invest in the part of the airport that passengers are interacting with the most," DOT secretary Pete Buttigieg said in an interview with Travel Weekly. "And we all know that a lot of our terminals need work. America is the country that brought modern aviation to the world but by many rankings, not one of our airports ranks among the world's top 25. And we all have experienced that when we fly." 
Though Congress annually appropriates more than $3 billion for the FAA to support projects related to airport airfields, federal grants for passenger-facing terminal work are unusual and haven't been available since the Obama administration's 2009 American Recovery and Reinvestment Act in the midst of the Great Recession. 
As part of the 2009 bill, airports were awarded $1.1 billion for terminal and airfield projects combined. The 2021 infrastructure bill includes $15 billion for runway, safety and sustainability work at airports to go along with the $5 billion for terminals. 
Airports typically pay for terminal projects through Passenger Facility Charge user fees, which are capped by the federal government at $4.50 per flight segment, or from local funding sources such as bonds. 
Opinion: Now arriving, the airports of tomorrow
The 85 grant recipients announced by the FAA include airports of all sizes. 
For example, Orlando International will receive $50 million to assist with construction of four new gates capable of handling four twin-aisle planes or eight narrowbody aircraft. Pittsburgh International will receive $20 million to assist with construction of a new $1.4 billion terminal. Boise Airport in Idaho will receive $960,000 to install energy-efficient boilers and to replace aging skylights with energy-efficient ones.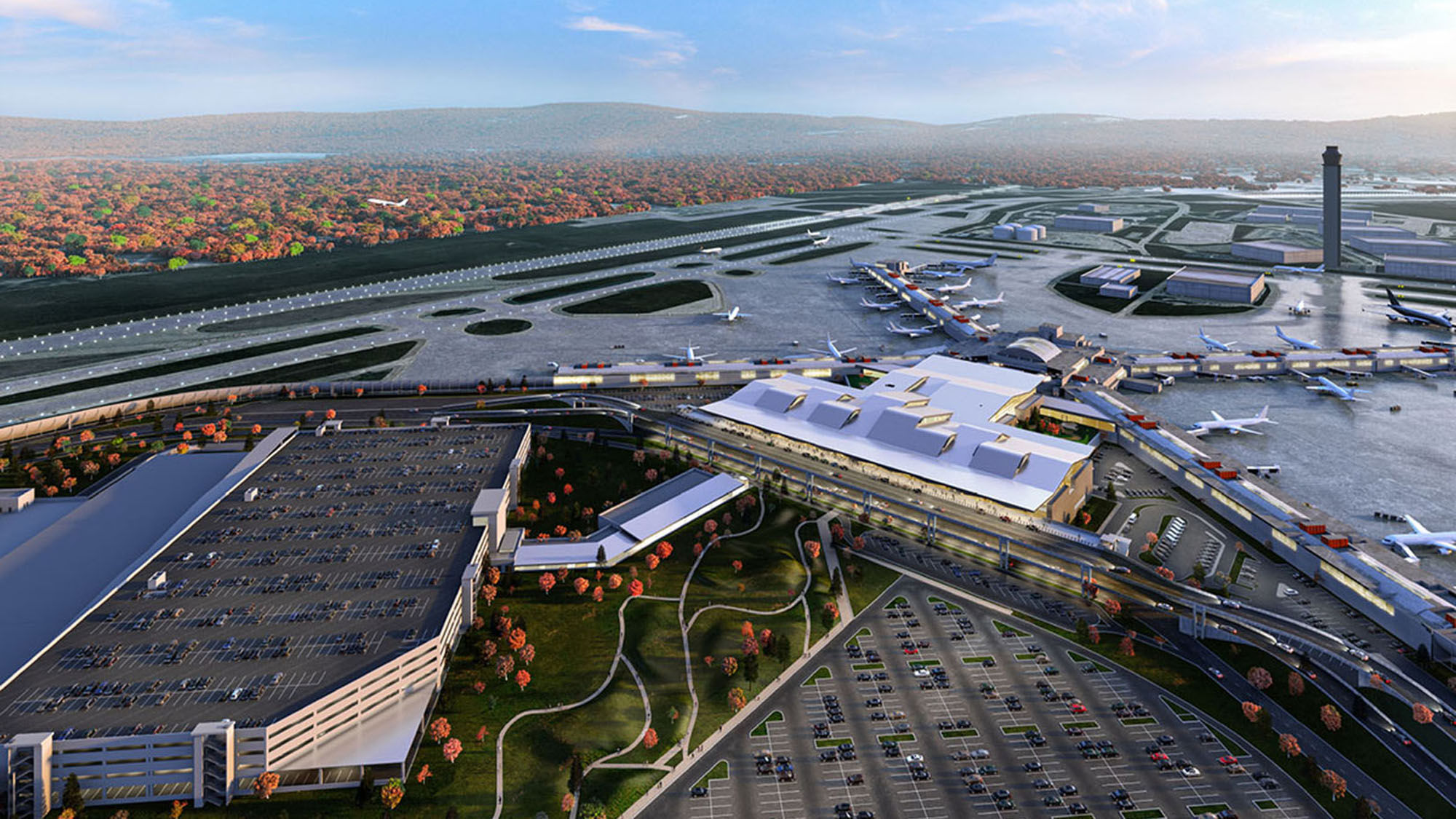 While grants like these will be helpful, the $20 billion from the 2021 infrastructure bill will just scratch the surface of what U.S. airports say they need in the coming years to expand and modernize aging infrastructure. Last year, trade group Airports Council International-North America estimated that U.S. airport infrastructure needs $115.4 billion in funding through 2025, including $40.1 billion for terminal buildings. 
For years, Airports Council International has been calling for Congress to increase the cap on the $4.50 Passenger Facility Charge, which was last upped in 2000. 
Buttigieg steered clear of a question on whether he supports a cap increase.
"Our focus is to take this funding and spend it well," he said. "There are additional sources of funding and there can always be more and that conversation will continue. But what we're looking at right now is the most we've been able to do in a very long time."
Podcast: Designing the airport of the future
Buttigieg also elaborated on the importance of the money the FAA will disburse for airport terminals.
"For example, the award that's planned for Huntsville, Alabama, is going to help with everything from elevators and escalators to restrooms in the terminal and concourse to improved public areas," he said. "And it is going to make the airport more accessible to more passengers, taking some steps for ADA compliance. It's going to make it more energy-efficient for the future. And, of course, there are going to be a lot of construction jobs around the project. So, that's one example of a place where the total — I think it's $10 million — is going to make a huge difference to that community."
Source: Read Full Article