Leisure flyers have increasingly purchased premium-seat products during the pandemic, a trend some airlines are betting will buoy the industry even if unpredictable developments, like the omicron variant of Covid-19, extend the timeline for business-travel recovery.
"We believe that through the pandemic we've created kind of a new class of customer, which is the high-end consumer that wants these products that maybe didn't have as much access to them because they were given to the business customer earlier in the booking process," said Delta president Glen Hauenstein during the company's October earnings call.
Hauenstein said that for July through September of this year, premium revenue for Delta's domestic and short-haul Latin market flights outperformed main cabin revenue, with the percentage of seats that were sold in first-class cabins and for Delta's coach cabin extra legroom offering, called Comfort+, exceeding even 2019 levels.
Those encouraging numbers came as business traffic at the airline remained down 60% from 2019. 
"So I think the big epiphany for us was there's a much broader demand for this than just business travelers," Hauenstein said. He hinted that Delta could announce an expansion of its premium offerings during its Investor Day event on Dec. 16.
If the carrier makes such a move, it won't be alone. Emirates last month announced that it will retrofit 52 of its existing Airbus A380s and 53 of its existing Boeing 777s with premium economy cabins by the end of 2022. The move marks a big shift, as Emirates will have only six planes featuring the premium economy cabin class by the end of this year.
"Emirates is investing in this retrofit program to ensure that we continue to serve our customers' needs and provide the best experiences in the sky," Emirates CEO Tim Clark said at the time of the announcement.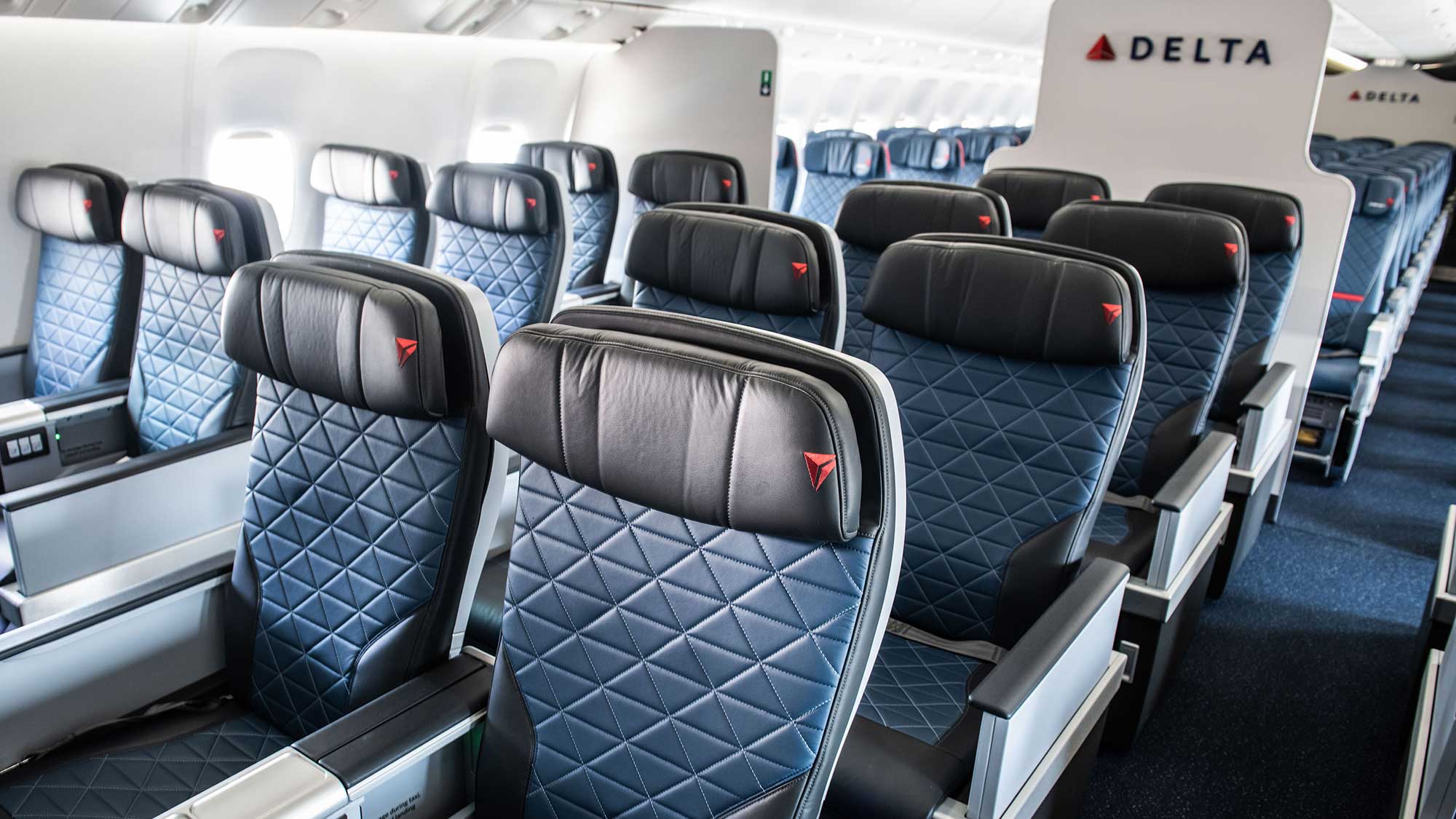 Meanwhile, United and American have also benefitted from the growing popularity of premium products among leisure travelers. 
In October, United chief commercial officer Andrew Nocella said the carrier has been selling first-class and Economy Plus extra legroom seats with higher load factors than in the past, adding that domestic first-class revenues over the summer reached the 2019 level. Nocella said he is bullish that the premium leisure demand surge is permanent, though that must still be proven.
"In the unlikely event corporate demand is not 100%, we do have other levers to push, and this one has become increasingly obvious over the last three months as an opportunity to do something a little bit different and get some more revenue on board the aircraft," Nocella said.
The demand surge has extended to American, as well, though chief revenue officer Vasu Raju has expressed less certainty about whether the change is structural or temporary.
Related story: With business travel lagging, urban hotels embrace leisure
What's behind the surge?
Analysts say a variety of factors have fueled the premium leisure surge. An obvious one is that exploding stock and real estate markets during the pandemic, coupled with reduced spending during periods of lockdown, boosted savings for many higher-income U.S. families — the same dynamic that has led to a general boost within the luxury travel market.
"Household wealth needed a place to go," said Airlines for America chief economist John Heimlich, who also opined that the pandemic scare has changed the mindset for many individuals.
"It got more people thinking about living large and having memorable experiences," he said.
Another factor, Heimlich said, has been the increased availability of premium airline products during the pandemic as the network U.S. airlines deployed widebodies with lie-flat business-class offerings and premium economy cabins more widely on domestic routes.
Premium seat availability for the leisure market has also been boosted by the dearth of business travelers, while premium seat paid load factors have benefitted from fewer business travelers being in the air to accept free upgrades. 
The shift in premium seat supply has also brought down prices relative to economy seats, according to an October analysis undertaken jointly by Expedia Group and ARC. The authors found that in 2021 premium tickets had been 2.9 times as expensive as economy tickets, down from 4.3 times as expensive in 2019.
Julie Kyse, Expedia Group's vice president of global air partnerships, said those lower price gaps, coupled with the pandemic-times desire for extra space, fueled premium seat demand by leisure travelers.
Still to be determined is whether the trend toward premium leisure flying will be long-lasting, and if so, how it will impact airplane configurations.
Kyse is among those who expect to see airlines invest more in premium economy cabins over the long run.
Craig Foster, co-founder of U.K.-based Valour Consultancy, which focuses on the commercial aviation and maritime markets, has similar expectations. 
"It may be that we see cabins being reconfigured with a scaled-down or smaller business class, and they might be reconfigured with bigger premium economy cabins to meet that premium leisure demand," Foster said. 
Source: Read Full Article