Travel advisors have seen their share of cruise bookings plummet during the pandemic as direct sales soared, but the dominance of the advisor channel is predicted to snap back by 2025. 
A March bookings report and remarks from cruise executives indicate that travel advisors' cruise bookings are rebounding. 
Travel agents' proportion of cruise bookings tanked to an all-time low of 52% in 2021, down from 70% in 2019, as direct bookings gained traction, according to the U.S. Cruise Market Report 2022-2026, released by Phocuswright.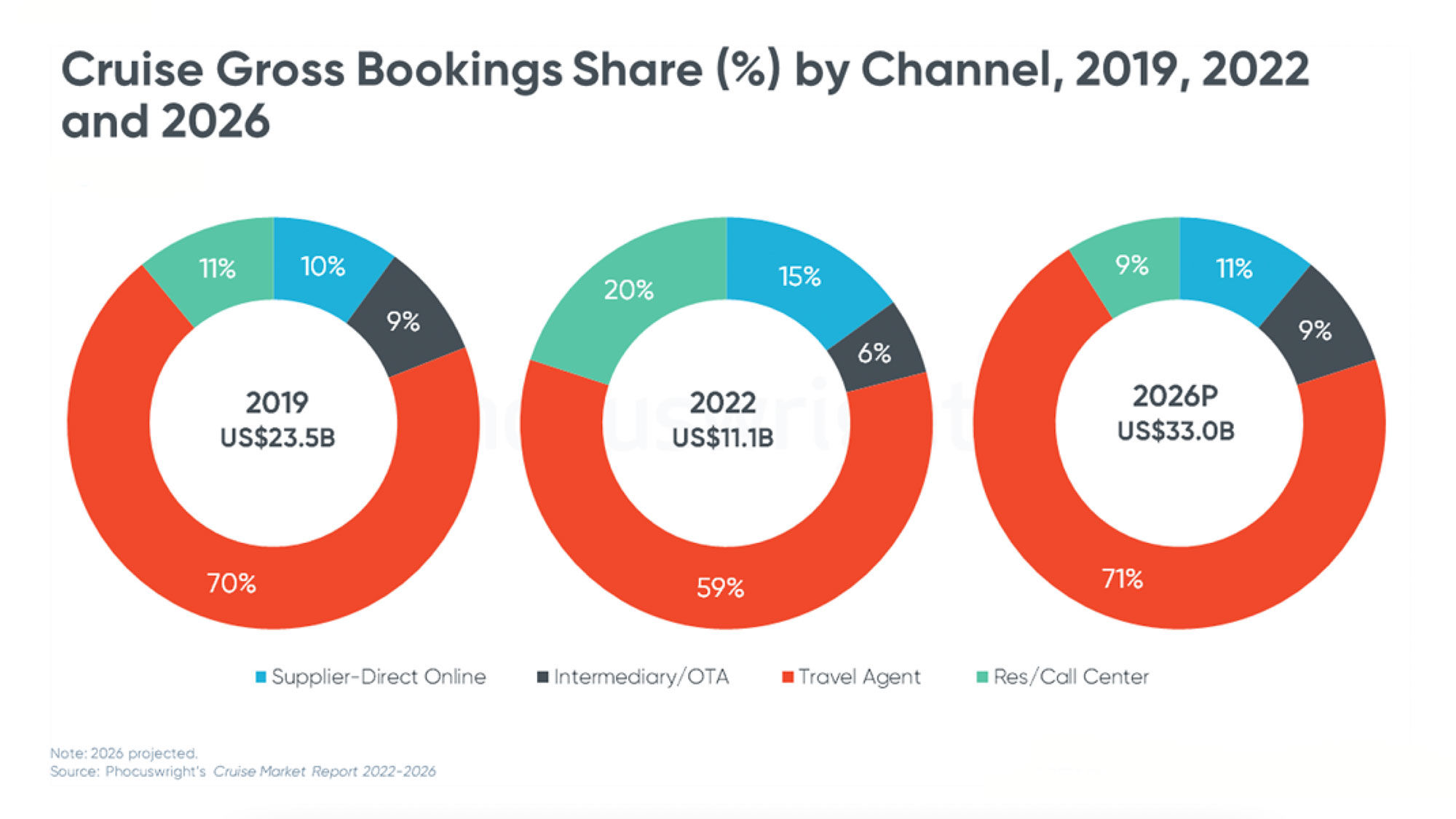 But projections suggest concerns about an increase in direct bookings could be relatively short-lived, with the share of travel advisors bookings predicted to return to 2019 levels by 2025 and increase to 71% by 2026.
"Cruise was hit so hard and is coming back so strong," said Michael Coletta, manager of research and innovation at Phocuswright and an author of the report. "As those itineraries get longer and more complex, it's just not really a product that's super well-suited for online booking."
The pandemic ushered in an increase in direct cruise sales. According to the report, 21% of bookings came from direct sales in 2019, either through call centers (11%) or supplier websites (9%). But by 2022, the share of bookings from call centers nearly doubled, and direct online bookings climbed, reaching a combined 35% share of cruise gross bookings. 
That shift came as itineraries during the cruising restart were shorter and leaned domestic, making them simpler for guests to book directly, Coletta said. Meanwhile, he added, travel agents who were still working were dealing with cancellations and applying future cruise credits for rebookings, which negatively impacted new bookings. 
Now, Coletta sees evidence from the Phocuswright report, which looks at economic indicators, consumer research and interviews with industry executives, that booking share will change. (Phocuswright is owned by Northstar Travel Group, which also owns Travel Weekly.)
The cost of direct bookings
Carnival Corp. CEO Josh Weinstein said during a first-quarter earnings call last month that several of the company's brands saw travel agent bookings exceed 2019 levels. Weinstein and other cruise executives have acknowledged the direct sales increase, but they have continued to reiterate their reliance on the trade.
Weinstein said during the call that advisors' Wave season booking volumes were "phenomenal" and called the trade's recovery "fantastic."
"I'm not going to pretend that we don't have direct business. Of course, we do. But we will only be successful if all of our sales channels are successful. Truly. And I think the trade has done a remarkable job for this industry," he said in an interview. 
That is especially true given how much growth is on the horizon for cruise lines. Coletta said the lines will need help filling beds in the years ahead, with 75 ships on order over the next five years. 
Wall Street analysts are mixed on the value of bookings from advisors versus direct. 
Truist securities reported that Carnival Corp. insisted it was more accretive for guests to speak with one of their cruise line agents to book a $250 cruise than to pay commission to an agent to book it, in part because those calls are sent to places with lower operating costs such as the Philippines. 
In contrast, Assia Georgieva, a longtime cruise analyst and a principal at Infinity Research, said, "Travel agents are cheaper than operating a call center." But she also predicts that the direct booking channel could hold onto its stronger position down the line, and well past 2026, as the tech-savvy Generation Z grows into a larger share of cruise customers.
Travel advisors report strong sales
Travel agents say they are confident in their ability to reclaim the greater share of gross bookings.
Although Robin Sanchez, president of Montecito Village Travel, instructed her agents to keep in touch with their clients early during the pandemic, she said some of those advisors took a break.
"They just kind of tapped out," Sanchez said. That left clients to be poached by other advisors or to work directly with cruise lines, she said.
But she's seeing a strong recovery in 2023. Her company has recorded $49 million in sales for cruise travel so far this year, compared with $44 million for all of 2019. Her staff is also back to full strength after she hired back all of her employees and added more than 100 independent contractors since 2020.
Cruise Planners founder and CEO Michelle Fee said business is strong this year and that overall cruise bookings for 2023 are 25% over the full year of 2019. She said she's not worried about the recent increase in direct business to cruise lines. 
"There's so much travel out there, and there's so much opportunity. Obviously, we'd love for it all to go through the travel agent channel, but to me, it's never stopped our business," she said.
Source: Read Full Article