Less than a week after opening the books on its first World Cruise, Royal Caribbean received its priciest cabin booking to date, with a Dream Vacations franchise owner booking the 2023 sailing's top accommodation, the Royal Suite. 
Theresa Graham, co-owner of Dream Vacations TravelPerks in Eugene, Ore., will soon be the recipient of the largest commission check Royal Caribbean has ever written for a single reservation. Graham's client booked the $772,331 suite.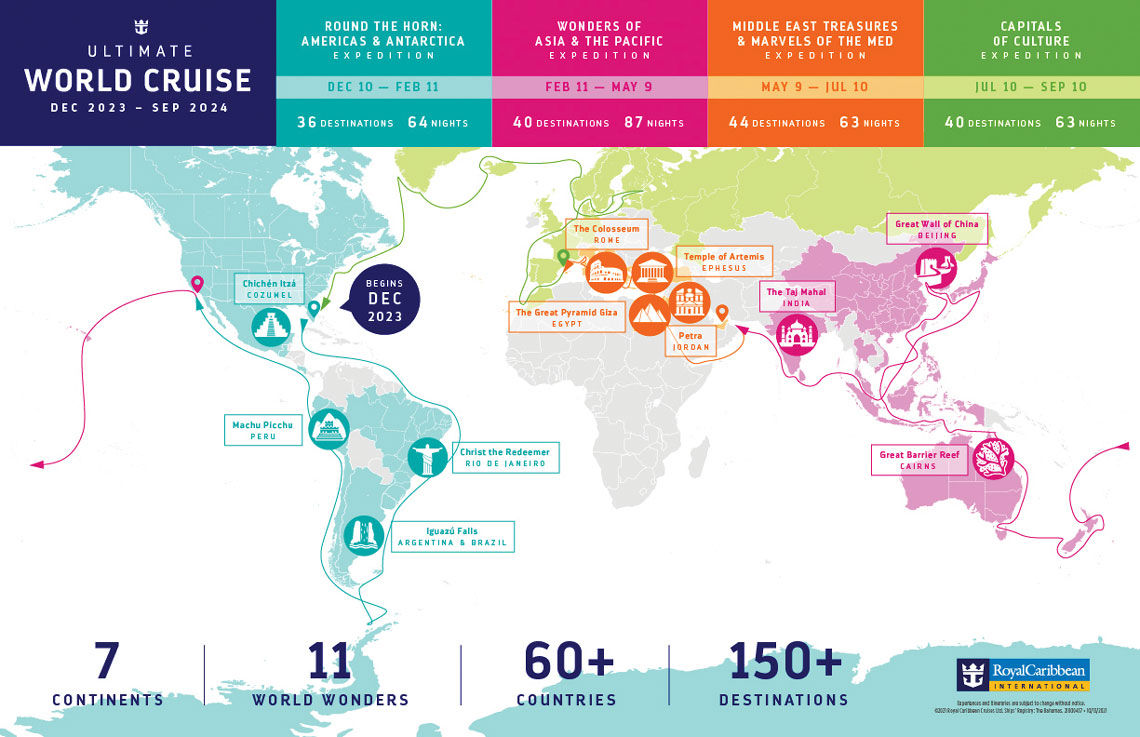 Royal Caribbean's world cruise, the longest ever at 274 days, drew positive reviews from travel advisors.
"We are so excited to see such a very rich booking made by a travel advisor," said Vicki Freed, Royal Caribbean's senior vice president of sales, trade support and services. "It is our pleasure to pay out that well-earned commission. We are so grateful to see the travel advisor community bouncing back after the past 18 months of chaos in our industry and world."
Graham's husband, Gary Smith, started their travel agency nearly 18 years ago. Since 2012 they have been working with the client who booked the suite. 
"I've had the opportunity to build a wonderful relationship with this couple," she said. "We've worked on so many fantastic sailings and then through all of the suspended sailings, and I've played a large role in managing his many cruise credits and protecting his interests. He knows that he is my client and trusts me to take great care of him."  
Graham said that when the client advised her that he was considering the 274-day Ultimate World Cruise, departing Dec. 10, 2023 on the Serenade of the Seas, she immediately called Royal Caribbean to hold the Royal Suite.  
She said the emphasis she and Gary have long put on relationships really paid off in this situation: the client had cruise credits with an online agency via a reservation made with a group of friends.  
"That well-known online agency would not return his call or provide him the certificate numbers for his credits," Smith said. "I was able to work with the cruise line's guest services and get the credit certificates to apply to one of his other reservations. Imagine if that other agency had made an impression on him such that they had instead won this sale. Every interaction matters."
To that end, Smith said that TravelPerks is "all about relationships," large and small. 
"On the same day that I was completing this sale, I also booked a simple air ticket for a $75 booking fee," she said. "We celebrate the success but most importantly, we celebrate the relationships and the opportunity to work with some truly terrific clients."
Graham said that as exceptional as this sale is, "it does not begin to cover our pandemic losses." 
"It is a wonderful example of how cruising is returning and is a light guiding us through this tunnel. We've been very hard hit with this and maintained employee agents through all of this so that we could preserve our relationships with our clients while processing back refunds and managing cruise and travel credits. Through this, we're incredibly proud that this has paid off and we've maintained 5-star Google reviews through this time but also, more importantly, our incredible clients."
Source: Read Full Article