NEW YORK — At a soiree held at a loft-like apartment in the East Village in May, I was introduced to a very strange couple named Stella and Toby.
While most guests wore a mix of business-casual and cocktail attire, Toby opted for a striped pajama set and Stella for a chemise and robe. Rather than mingling with others at the crudite table, the pair spent part of the party lounging in a bedroom, perusing the paper and snacking on a tray of breakfast pastries. They were also not shy about discussing their personal money matters and could be heard loudly arguing about a large sum Toby had lost at a casino the night before.
It was certainly unusual party behavior, but Stella and Toby weren't party guests, or even real people, for that matter. They were characters from "Ways and Means," a short play by the English playwright Noel Coward. And the bedroom, which had two rows of chairs at one end, was their stage.
The apartment also wasn't just a run-of-the-mill residence. It was an artfully decorated, luxury vacation rental bookable as part of Accor's Onefinestay portfolio and, on that particular evening, hosting the debut of Onefinestay's partnership with London-based theater company Revels in Hand.
As part of the partnership, Onefinestay guests can book private and fully customizable in-home theatrical experiences from Revels in Hand, with performances including Shakespearean classics, interactive murder mysteries and even original plays written for a specific occasion.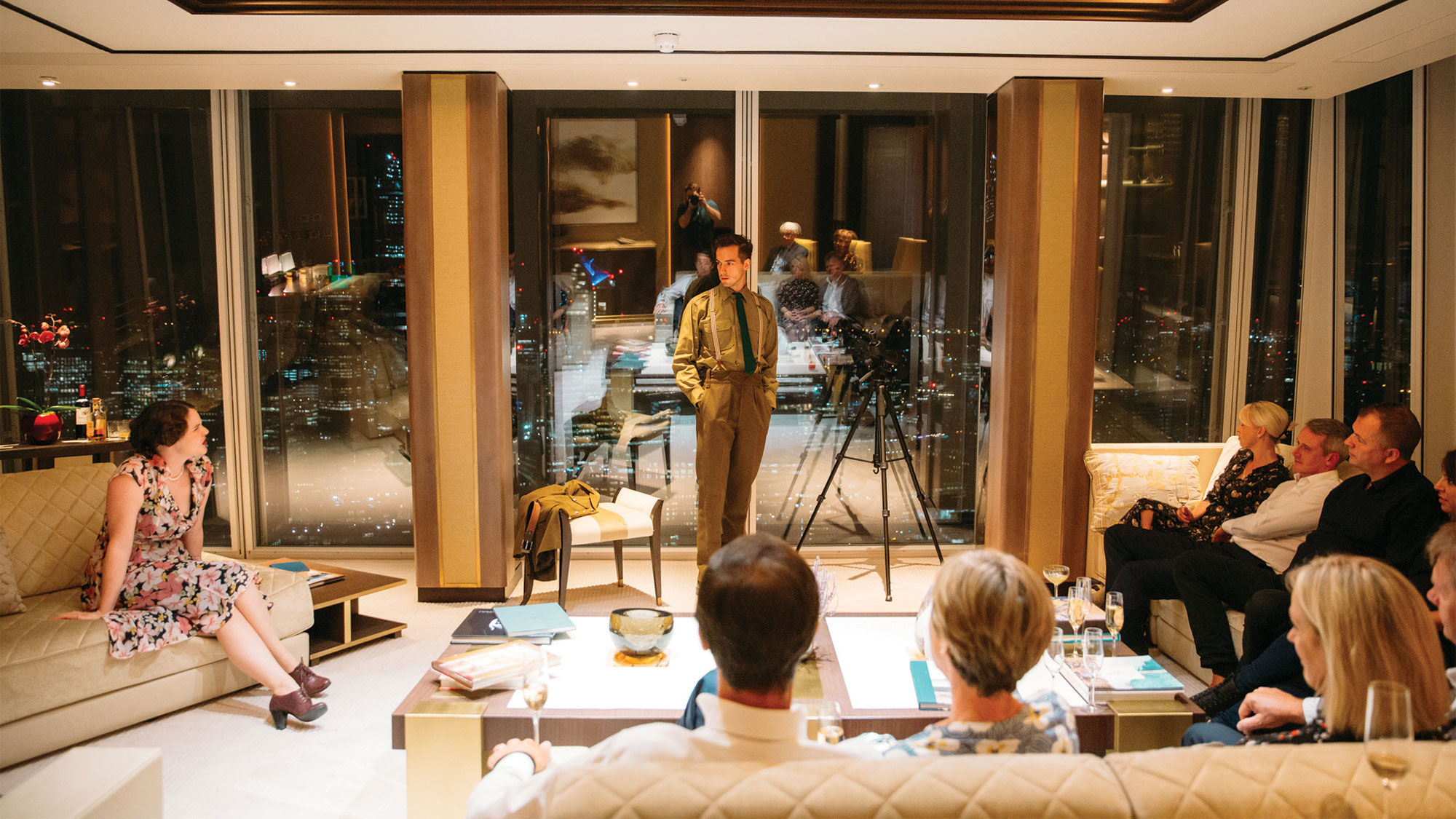 Revels in Hand performances will be available at Onefinestay homes in New York, the Hamptons, Los Angeles and various U.S. ski destinations, with Onefinestay eyeing expansion of the add-on into the U.K. 
According to Michele Bayens, Onefinestay's director of concierge services, the partnership ups the ante on the brand's high-touch hospitality approach, going well beyond other luxury-rental add-ons like private chefs, in-home massages or yoga sessions. 
"We really pride ourselves on being able to offer something very bespoke, but 'bespoke' is an industry word that's sometimes overused," Bayens said. "We want to find those really unique partners that offer our guests something they haven't even thought of before. And this is probably one of the most immersive experiences we've ever offered."
Pricing for a Revels in Hand experience starts at around $2,500, but the "sky is the limit" when it comes to performance scope and cost at the high end, Bayens said.
As far as the logistics of performance planning goes, guests are provided a sample menu of theatrical options but are encouraged to go off menu. 
"The menu is there to give them an idea of what's possible, but only an idea," Bayens said.
When it comes to demand, Bayens said she expects the theatrical performances to be popular for group occasions, including multigenerational family gatherings, dinner parties and cocktail events.
"Revels in Hand offers so many different kinds of experiences that can be tailored to a group; the possibilities are endless," Bayens said. "You can decide to do a play or just have somebody recite poetry or do a speech, or even do a treasure hunt or something else that's interactive. It's going to be really fun and interesting to see how this partnership plays out."
Source: Read Full Article