If there is a reward for being the first to do something in a business — the so-called first-mover advantage — then there's also something to be said for going later and benefitting from the early bird's mistakes.
No one can deny that Crystal Cruises is joining a crowded field in the expedition cruises segment with its new Crystal Endeavor. Yet it has been able to draft on the experience of other operators to create a ship that stands out among its peers. 
Ten or 15 years ago, the expedition market was more raw, less comfortable, more focused on scientific and exploratory achievement. The Crystal Endeavor, launched in mid-July, represents a later generation of vessel that is fully capable of visiting the offbeat and rugged areas of the planet but with a level of comfort that earlier ships didn't have. 
And it addresses a problem that luxury lines like Crystal have long combatted, namely their relatively senior passenger base and the need for a pipeline of younger cruisers to keep travel agents and cruise ships busy.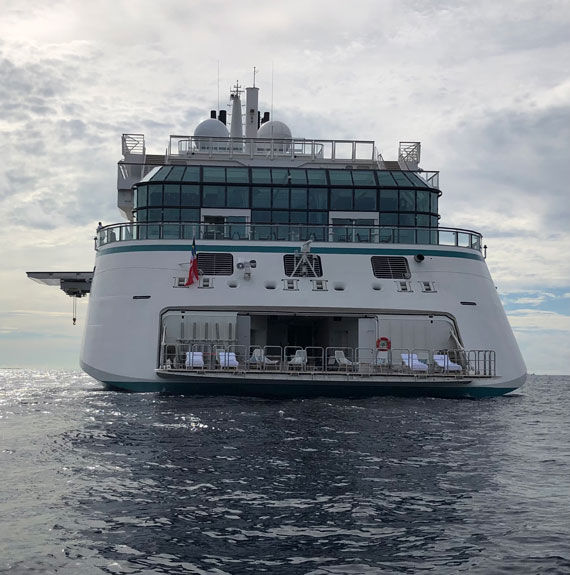 Crystal is making its long-anticipated foray into adventure cruising with style as the Crystal Endeavor debuts.
Crystal's task is relatively small. Unlike with larger ships, the line only has to find 200 passengers per voyage for the Endeavor. That's the ceiling for cruise ship Zodiac landings in Antarctica, the ultimate expedition destination. 
Passengers making the transition from, say, the Crystal Serenity to the Crystal Endeavor will find themselves on familiar decks. The same restaurant names from the luxury ships — Prego, Waterside, the Marketplace, Umi Uma & Sushi Bar — are present in smaller sizes as well as the traditional Palm Court and Crystal Cove lounges.
But there are some differences, too. You won't, for instance, find a mud room or a helicopter lounge on the deluxe Crystal ships. Or a fold-down Marina Platform on the aft that puts passengers just a few feet above the waterline.
Crystal president Jack Anderson, in a talk with travel agents on an Endeavor cruise to Bimini, emphasized that Endeavor is a product of German workmanship, applied at the MV Werften yards that Crystal's parent company acquired expressly to build its ships.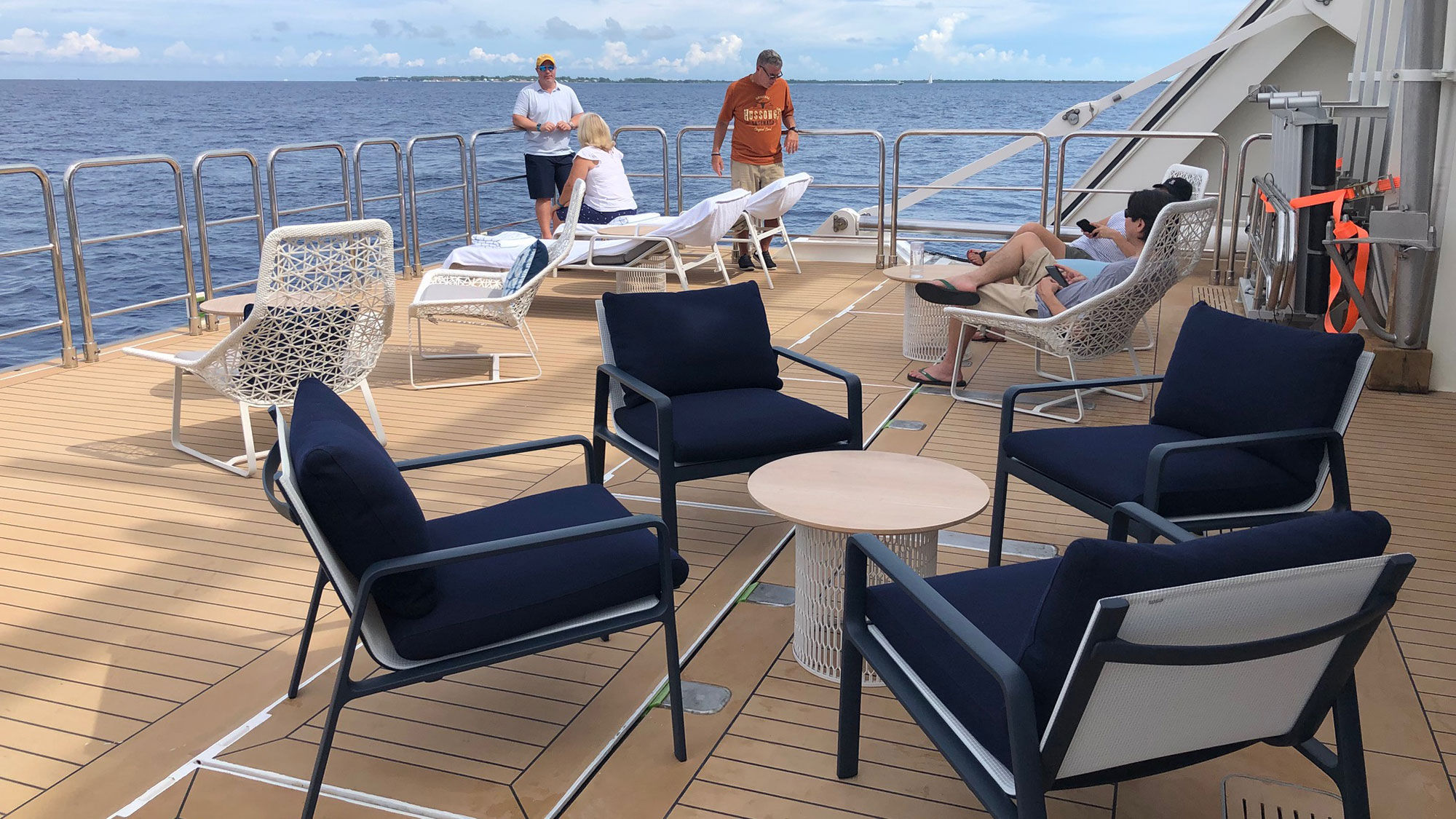 Engineering triumph
"The engineering, the navigation, the technology that has gone into this ship is absolutely state of the art and does not exist on any other expedition ships," Anderson said. "The German engineering for this Mercedes or Porsche is like nothing else that's ever been built." 
But it is the Scandinavian company Tilberg Design of Sweden that produced what I think is the signature space on the Endeavor. 
The two-story Solarium at the aft on Deck 5 is like no other space I can remember on a ship. It serves as both a pool deck and a restaurant: Its centerpiece, a 14-by-22-foot pool is surrounded by a series of tables for casual dining at the ship's Marketplace restaurant.
There is a mezzanine level of dining arrayed in a horseshoe-shaped balcony. Guests can either order food themselves at the quick-service counter or have it served at the table by waiters. 
Decorated in blue and white, a majority of the room comprises double-height, floor-to-ceiling glass windows, giving it an extremely airy feeling. The dining area continues on an alfresco deck overlooking the stern, accommodating a half-dozen tables. 
The pool, with a depth of about 5 feet, has a moveable floor so it can be drained and the floor elevated to deck level. "It comes up when we need more seating capacity or when there's an event," said Gunter Lorenz, Crystal's vice president of food and beverage. 
The Solarium feels both intimate because of its size and expansive because of the views and light it provides. Guests will gravitate to its combination of casual dining, pool ambience and sea vistas, not to mention close-ups of helicopters landing on the roof. 
Source: Read Full Article