If there's one thing I love more than finding out what's on the lunch or dinner menu when I'm on a river cruise, it's getting the opportunity to see and experience art in every destination. With a first year of river cruising under my belt, I admit that I still get chills thinking of all of the art in museums, on streets, in villages and even deep inside caves that I have been fortunate to enjoy in person.
Here are a few of my favorite artistic encounters along the waterways of Europe.
Hidden gems on Emerald sailing
My first river cruise with Emerald Cruises, which visited Hungary, Serbia and Croatia, offered what I would consider a casual, laid-back art experience that was very on-brand for the premium cruise line.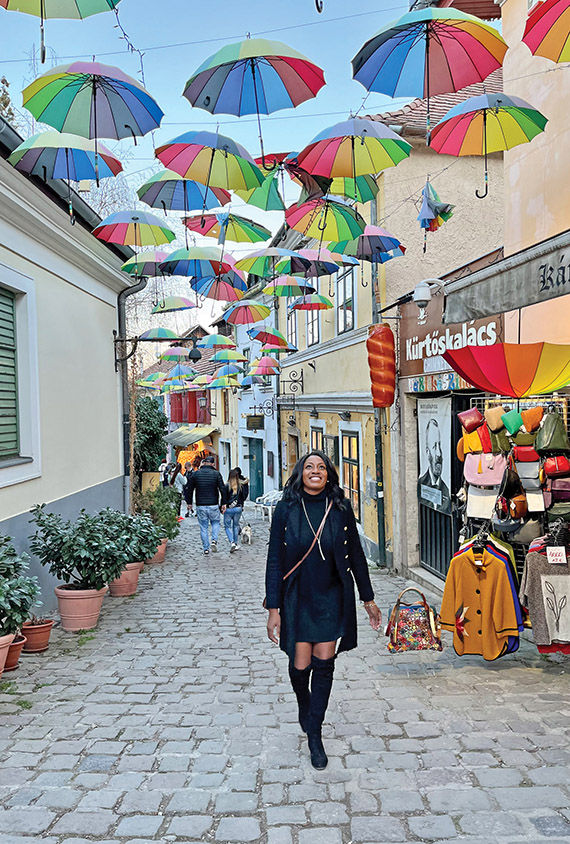 Our first stop was Szentendre, an artist village that's almost like an open-air museum, located about 40 minutes outside of Budapest. It's a popular visit that's included on several river cruise itineraries.
Walking in, I felt like Alice stepping through the looking glass: There were canopies of rainbow-colored umbrellas and lampshades suspended in the air as tourists and locals alike meandered through the village. My favorite thing about visiting Szentendre was wandering through the village, heading up and down corridors and finding artistic gems of all sizes nestled throughout. At times it felt like a scavenger hunt, a mission to find even the smallest work of art — proof that nearly every corner of this village had been touched by a crafty hand. 
Serbia offered a similar kind of open-air art experience, though in much more urban settings in its capital city of Belgrade. 
Liberating is the word that comes to mind when I look back on the street art and murals I saw there. I strolled the city center during a group craft beer crawl, so I didn't have time to cover as much ground as I would have liked. But what clearly came through from those works was a sense of pride, a sense of humor shielding a kind of angst, one that even I could relate to as an outsider.
Klimt's 'Kiss' with Avalon
An evening excursion on an Avalon Waterways cruise began at Belvedere palace in Vienna, where Champagne and canapes were served to our group as a three-piece ensemble played softly in the background.
It was only then that we learned that Avalon had arranged a private, after-hours tour of the Belvedere museum, within the palace walls. Our guides began to reveal the names of the artists featured in the museum. One of them was Gustav Klimt, — and, yes, his most famous piece, "The Kiss," is among the works in the museum's collection.
As I stared at this masterpiece, I felt like I could have stayed the whole night suspended in that moment. But there were many more Klimts to see as well as works from Egon Schiele, Oskar Kokoschka and even Claude Monet.
(Private, after-hours tours are not typically available on Avalon's Danube itineraries, but regular guided tours during the day are.) 
Art in the heart of Venice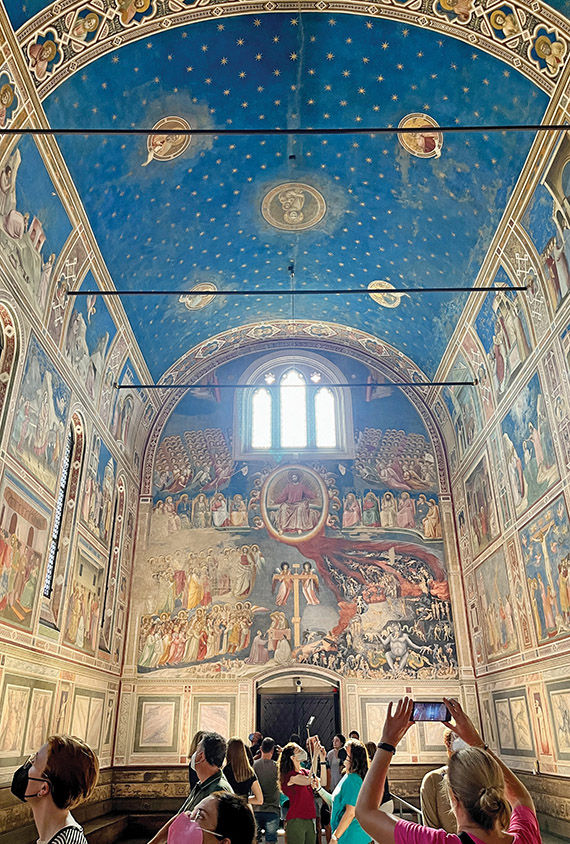 My favorite art experience since seeing those Klimt paintings was on a Uniworld Venetian Lagoon sailing. And the site that made the greatest impression on me was the Scrovegni Chapel in Padua, just north of Venice.
The Scrovegni Chapel is famous for its floor-to-ceiling, 14th-century fresco by Italian painter Giotto that depicts the life of Jesus Christ and is considered one of the great masterpieces of Western art. If you're on the cruise, you'll have to skip the walking tour of Padua in order to visit the chapel, which also carries a $14 admission price. But I highly recommend making the sacrifice.
My self-curated, two-day visit to the 59th Venice Biennale also has had a lasting effect, on a very personal level.
My mission was simple: to see Sovereignty, the solo exhibition of Chicago-native Simone Leigh, the first Black woman to represent the U.S. at the Biennale. Her monolithic sculptures explore the Black female experience through a cultural, historical and futuristic lens. 
To say I could see myself in the imagery of Leigh's Black female subjects — how, as a Black woman, my presence in the world is both pronounced yet obscured — would be an understatement, as would the profound sense of pride that I had seeing her work in person. 
Source: Read Full Article